Christmas may be the time of year for overindulging in great food, but for some, myself included, it's the perfect excuse to dust off the bottles from the drinks cupboard and get wellied in. Indeed, this year I've came across a vodka infusion-recipe which sounds delicious and is sure to be a winner with friends and family, which is great. Even better is that it couldn't be easier to put together and consists of ingredients which will be in everybody's cupboards at this time of year.
Right, so what you'll need for this boozy-infusion is:
Ingredients:
- 1 litre of Vodka (Go for a decent mid-range bottle)
- 250g Dark brown sugar (add a little more if you have a sweet tooth)
- 175g Raisins
- 250g Sultanas
- Juice and rind from 1 large orange
- 1 tsp Almond essence
- 2 Cinnamon sticks
- 1 tsp mixed spices
- 1.5 tsp Vanilla essence
- 1/2 tsp ground nutmeg
- 7 Cloves
Equipment:
- 2 large mixing bowls or 2 large clip & close containers
- Wooden spoon
- Clingfilm
- Cheese or muslin cloth
- Funnel
- Measuring jug
- A few Kilner Gin bottles or jars
Method:
First what you'll want to do is grab your mixing bowl or clip & close container and throw in all of the above pre-measured ingredients. Once they're all in there, give it a good stir until all of the sugar has dissolved and the ground spices have been mixed throughout the booze.
Now you can cover your mixing bowl with some clingfilm or put the clip and close container lid on, depending on which option you are using. Go ahead and store your boozy infusion in the fridge or in a cool area (I've got mine in the shed), making sure you give it a good shake at least every day.
All there is to do now is wait and let the festive flavors infuse. Leave this for at least 48 hours (longer if you can) before straining and bottling.
When it comes to straining, you want to place your cheese/muslin cloth over another large bowl, pour the booze and strain the fruits and spices from the liquid. Now, it is up to you with what you would like to do with the soaked fruits. You can use them in some X-mas baking to give a nice boozy twist to some X-mas classics; or if like me you're more interested in getting the most from your booze, squeeze as much liquid from the fruits into the bowl as you can. After doing this, you should be left with just the pulp from the fruit, bin this.
Now you are ready to fill your Kilner bottles with the festive scented boozy-infusion. Simply scoop some of the liquid into a measuring jug and funnel it into the bottles and just like that, hey presto you're done.
This delicious festive tipple is great served neat over ice, or accompanied with soda water with a slice of lemon. They also make a great X-mas present to gift to friends and family.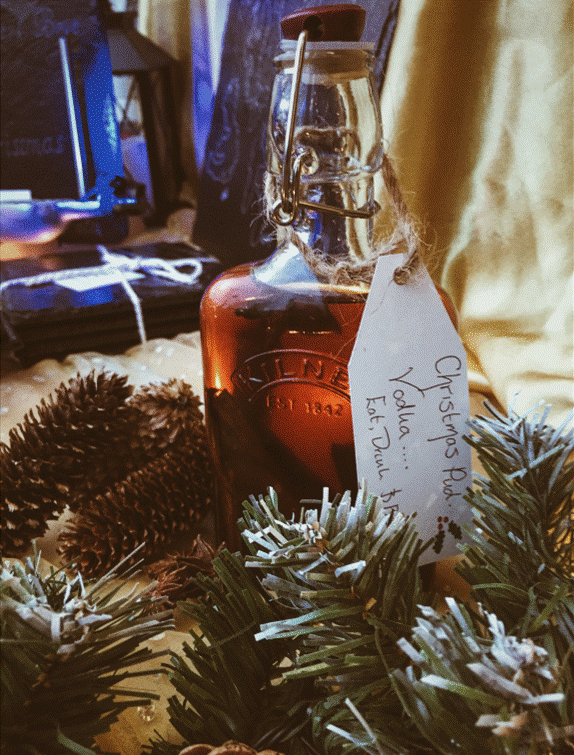 Let us know what you think if you give it a shot.
From all of the DIY team, have a very Merry Christmas folks!!! :D
#Vodka #Fruit #Christmaspudding #Christmas #vodkainfusion #boozeinfusion #cinnamonflavoredvodka #christmasvodka